KDE Apps are growing SO FAST!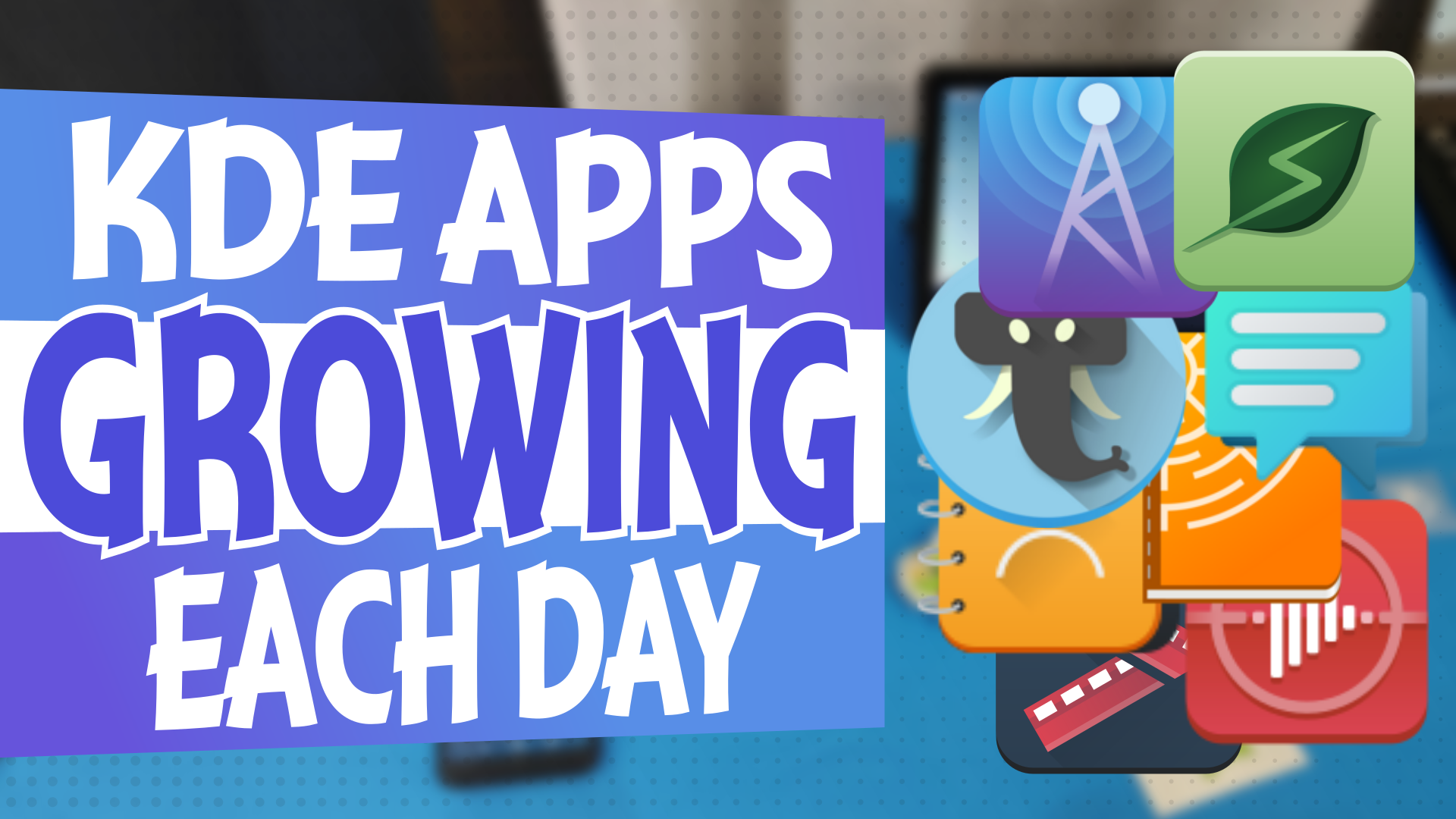 Ok, hear me out, something I complain actually pretty often is that we don't have enough KDE apps, or they're not good enough, or they're not consistent in design enough, and so on...
I do think that KDE core applications like Dolphin, Gwenview, Okular, Kate and so on are absolutely incredible and would win against any competition on any day; but I don't quite feel the same on apps that are about some smaller use-cases or not as maintained.
From that point of view, I absolutely loved GNOME's initiative called Circle which manages to onboard a lot, and I mean A LOT, of little cute applications that are consistent with their design. I've praised this system in previous videos too, so this shouldn't come as a surprised.
However, Plasma Mobile and Kirigami are changing that. And it's not just changing it for mobile phones, but desktops as well. When designing with a phone in mind, developers realized that many apps had to be rewritten from scratch, or straight up written from scratch simply because there was no alternative that was working well on a phone.
That was, obviously, done in Kirigami, which is KDE's toolkit that best supports, I think, touchscreens. Which is totally a big deal on smartphones, you know! However, Kirigami is designed for convergency; it won't make apps automatically convergent (there are some great desktop-only Kiri apps, and some great mobile-only ones too), but it will make your life very easy if you decide to make your mobile app a desktop one as well.
So now we're getting lots and lots of "originally thought for mobile but you know what, this works very well on desktop too" applications. In fact most "Plasma Mobile" apps now are published in KDE Gear updates just like any other app. So, when is the next KDE Gear update? Well, it's this month, though it's on the twentieth.
However, through the monthly blogpost of Plasma Mobile developers in March we can get a little bit of a preview on how these applications have been improved for the release. And let me tell you, it's a juicy update. So, without further ado (I mean, it's only been 383 words), let's start talking about what's new.
---
AudioTube
AudioTube is KDE's client for Youtube Music. It allows you to listed to music ad-free from Youtube Music just like if you were paying for it (which I do, by the way). In March there has been a complete redesign of the play queue; on desktop, it will appear in a nice, blurry sidebar with options to clear the queue or mix it up. The biggest surprise for me was in the mobile phone version of the app, though:
I mean, look at this piece of a drawer. It's beautiful, for so many reasons. You have the nice shadow of the dialog, but also a even nicer shadow underneath the album art. You have the gray-ish header area that rooks slightly skeumorphic. It's just so pretty!
It does, sadly, raise some concerns due to my Consistency goal hat. In fact, we did already have a drawer that pops from the bottom. So, what was wrong with that? Why was a new one designed? Is it a consistent component that multiple apps can use? Will this one replace the old one? And so on. Luckily enough, the Consistency goal was replaced with new goals last October, so I can happily ignore all of those questions and just say: hey, it looks beautiful!
If you aren't sold on how pretty AudioTube is (what is wrong with you!?) you can check out this screenshot, which showcases the fact that now AudioTube current song, album art and artist will be correctly picked up by the desktop and displayed in a widget in the system tray, or wherever you want.
A lot of features were also added, it's not just designed changes. And I do mean a lot. Now you can clear the current playlist, clear search history, there's an about page, you have your favorite songs and most played songs as playlists, it's much lighter on the RAM, you can share songs, you can create your own playlists, and so on. It's a LOT of things, which I did not expect to all happen in just a month.
PhoneBook
This is a contact application and I won't talk much about it given that this one is probably much more on the "mobile phone" side of things, but I do want to point out that big redesigns happened here as well and this application is also using the bottom drawer I mentioned above, which makes me think that it's indeed some sort of reusable component.
Arianna
If you follow my channel, you know about Arianna. Actually, you should know about at least two different Ariannas. This one [picture above] and this one [picture below].
Arianna, the KDE app, is a project I started working some months ago with the idea to have an Epub reader for E-ink devices such as the PineNote. After a bit Carl Schwan basically took over and managed to implement lots of new features that would've taken me years; now, there's even more contributors to the application.
What's new - and cool - in March is: now Arianna works on Windows, and will probably soon land in the Microsoft Store. Given that the Epub readers on Windows are kinda meh, there's hope that Arianna will be used on that operating system too. And, as you know, as soon as you start using a free and open source application, it's only a matter of time before you fully convert to Linux.
Also: Arianna is getting quite future-proof by now compiling with Qt6, which will come with KDE Plasma 6 as well on all of your desktops.
---
I do have a couple of announcements before I go on, and it's big changes for my channel. Well, firstly I reached fifteen thousand subscribers, so thank you so much for that. To give back, from now on, all of my videos will be available as blogposts as well, and I mean literally word-per-word: if you prefer to read, you can just click the first link in the video description or go to blog dot nicco dot love. Also, all of my videos will now have manually written English subtitles AND each one will have chapter marks. All of this actually takes effort and money, so I started adding some benefits for patreons as well such as a private kind-of podcast, blogposts, and polls. Thank you so much to all the people helping me out with the channel, my goal is 700 bucks each month, and it's not easy but if you can chip in something that'd be lovely. Otherwise it's lovely anyway, don't worry.
---
Tokodon
Tokodon is a Mastodon client. Just a few months ago I actually tried it out, on Plasma Mobile, but sadly it could not fit my usecase perfectly back then because it lacked a major feature that it now has: being able to create polls. But of course, it doesn't stop there: the view to compose messages has been redesigned too to make it sure that you can see the post you're replying to; you have settings to filter out certain types of notifications (though to be fully honest, on all of my devices I'm always in do not disturb mode). Finally, there's also support for follow requests now. You can see all of the people who would like to digitally stalk you and you can go through the list and click on deny on every single one – except if it's me, of course.
PlasmaTube
You can't have a Youtube Music KDE client without, obviously, also having a Youtube KDE client. That's PlasmaTube! And, you guessed it, this client was also redesigned. Now the thumbnails have rounded corners, similarly to how Youtube itself does it, and the media player has a completely new look that you can see in this screenshot. I really appreciate the fact that the person who did the redesign, Mathis Brüchert (clearly not how you pronounce it, sorry about that), decided to use one of my videos to showcase the feature.
NeoChat
This is the Matrix client of KDE. By the way, all KDE communication happens on the Matrix servers of KDE (and, sometimes, it's bridged to telegram as well). This makes this client immediately quite important for KDE devs! In the latest round of changes we have that all the status updates (people joining the room, people changing their usernames, etc) automatically get aggregated together, which makes navigating rooms much easier (on other matrix clients sometimes I have an entire screen just of these status changes).
There's a new command to send a "knock" event to another room, which I just love, as an idea. As KDE is working on accessibility, keyboard navigation was improved significantly. There's no longer a hamburger menu but a more simple plus icon with just a couple of action (like, creating a new room or starting a chat). The video controls of the videos sent on Matrix now have more options, like a volume slider. You can copy images to the clipboard. There are quick formatting options when you select text in the message you're writing. And, finally, the account switcher now has a context menu with more options about accounts.
This is A LOT of stuff and I know you might not be directly interested in NeoChat, after all not everybody uses Matrix, but remember that if anybody works on another chat application all of this progress can be applied to that chat application as well, so it's making KDE future-proof even on other type of clients.
PowerPlant
FINALLY, to showcase just how good Kirigami is at making well-designed applications, let me talk about a project that has been posted publicly six hours ago, at the time of recording. It's obviously still in the early development stages and such, but look at these screenshots. Like, come on. This app is meant to help you at not killing your plants, which is pretty tough goal, but it does so in a way that just makes me go wooooooooooow. And yeah: this application was created yesterday. Like, the day before yesterday, this didn't exist. Now it exists.
... I think KDE apps have bright future, you know.